Vicki Behm
Vicki Behm is an artist and teacher in New York City. She has given lectures and workshops at The Metropolitan Museum of Art, Museum of Modern Art, the Guggenheim Museum, New York Philharmonic, New York City Opera Company and the Brooklyn Museum of Art. Ms. Behm's paintings, drawings, prints and books are shown at 440 Gallery in Brooklyn. Her illustration clients include Time, Inc, Amy Wilson Prop Stylist, Crain's New York Business, Lincoln Center Institute and, for Cole Haan, she completed a national campaign for their website, window displays and bus and subway ads. As an educator she currently works with Park Avenue Armory, Brooklyn Friends School, Horizons and Studio in a School. She spends summers in Mexico where she sets up a studio.
Kate Bell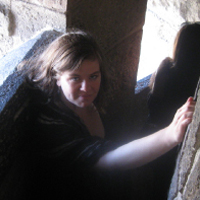 Kate Bell is a writer, songwriter, director, performer, and teacher. Her plays have been produced or developed in New York by the Culture Project, Theater for the New City, Red Fern Theatre Company, New Perspectives Theatre, Manhattan Theater Source, Gallery Players, Theatre for the New Economy, Random Access Theatre, and at Baruch College (with Committed Theatre), as well as in the Washington D.C. Area by Silver Spring Stage. Ms. Bell also works in New York City as a singer/songwriter and musician; her most recent musical work was with the rock trio, RECESS. For information about her work, go to katebell.info.
Donna Costello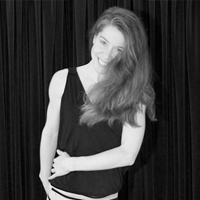 Donna Costello is a dance artist working in the field of dance, theater and performance. Ms. Costello has built rich relationships dancing and creating for a multitude of artists, most recently with Vicky Shick, jill sigman / thinkdance and director Jennifer Sargent. She was a founding member of Shannon Hummel's Cora Dance and was picked as a 2009 favorite by writer Eva Yaa Asantewaa for her performance in Carrie Ahern's 3-hour installation, SenSATE. In 2010 she toured Germany with Dancing to Connect, performing a solo by Aviva Geismar. Additional projects include working with Jimena Paz, Mollie O'Brien, Stephan Koplowitz, Juliette Mapp, Naomi Goldberg Haas, the human company, composer Anne Hege and many inspiring others. Her own work has been presented in New York, New Jersey, Virginia and at Performatica in Mexico. She received a space grant from BAX in 2011 and a BAX "Artist in Process" award in 2013 from her teacher Barbara Mahler.
Hawley Hussey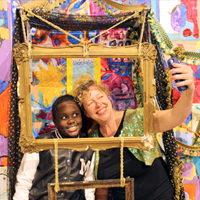 Hawley Hussey is a well-known and inspired Artist Teacher and Administrator with an active contemporary art practice that includes visual art, writing and performance. Her work has been exhibited, published, recorded and collected internationally. Ms. Hussey's artist books are held in many prestigious institutions including the Smithsonian and The National Museum of Women in the Arts. She is an original member of the Park Avenue Armory Artists Corps. As Director of Contemporary Art Education at BRIC House in Brooklyn, NY from 2005-2014, she established the vision and direction for a vibrant and highly collaborative arts education community. With over two decades of experience in arts administration and extensive knowledge in the areas of contemporary art education, strategic planning, collaborative action research and program assessment Ms. Hussey is launching several new projects that engage contemporary working artists with public schools and the public. She is a founding faculty member for a low residency Masters Degree in Art Education at Vermont College of Fine Art.
Larry Jackson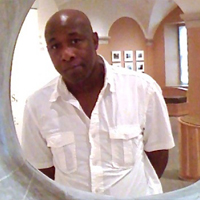 A graduate of The School of Visual Arts, Larry Jackson landed with a New York art rep (Edelman Professional Fine Arts Services) and promptly produced sold out fine art works for solo shows. After crisscrossing the country for two years, he was presented with a unique opportunity working with an elite concept design team for Gap and Banana Republic, which secretly produced the first year of what became Old Navy wear. After two and a half incredible years of learning the ropes (of branding) and studio creation, another good fortune to work on holiday (window) design concept campaigns was presented, with Mr. Jackson working on creative campaigns with Spaeth Design for clients: Lord and Taylor, SAKS 5th Avenue, and even helping stage the design build at the annual "Christmas Carol" escapade in Madison Square Garden. In 2007-2008, Mr. Jackson co-designed and fabricated the New York concept art show for Joni Mitchell's latest paintings. Recently, he finds himself creating Holiday display props for high-end shops such as Tori Birch and Tiffany and Co, and fabricating and constructing oversize jewelry boxes to cover the exterior of the famed 5th Avenue Cartier building for the Holiday season.
Penelope McCourty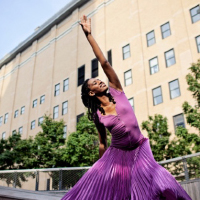 Penelope McCourty is a movement-based arts educator and performing artist living in Brooklyn, NY. For the past 15 years, she has worked with several locally and nationally known performance companies and community arts organizations. As a performer, teacher and choreographer, she was a member of Marlies Yearby's Movin' Spirits Dance Theater (1995-1999), Liz Lerman Dance Exchange (1999-2002), and Reggie Wilson/Fist and Heel Performance Group (2002-2006). Her choreographic work has been presented at St. Mark's Church, Joyce Soho, Chicago's Links Hall, Towson University and San Francisco State University. She has assisted, directed and/or choreographed: The Oedipus Plays-The Shakespeare Theatre Company (DC and Greece); Countdown-Off World Theatre (NY); Love (and other related) Songs-BAX/Brooklyn Arts Exchange (NY)
Hector Morales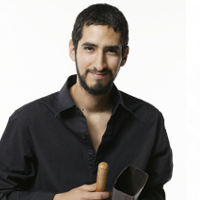 Drummer and percussionist, Hector Morales has performed on important international stages as the Lincoln Center (USA), The National Museum of Peru (Peru), the "Society of Musicians and Composers of Chile" (Chile), "Festival du Monde Arabe de Montreal" (Canada), Jerusalem Music Festival (Israel), among others. Mr. Morales has performed with distinguished musicians such as Sax player Oliver Lake and Grammy awarded bass players John Benitez and Oscar Stagnaro. Mr. Morales is the Author of the The Afro-Peruvian Percussion Ensemble an instructional book/DVD published by Sher Music Co, and has received a grant from NALAC (National Association of Latino Arts and Culture) and sponsorship from the Peruvian Government to promote this book within universities in the US. Mr. Morales' book is currently nominated in the "Best Educational Book of 2014" category by Modern Drummer Magazine.
Peter Musante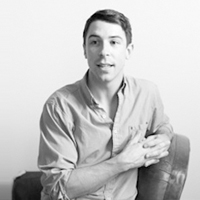 Peter Musante is a Brooklyn-based performing artist, director and educator working at the nexus of physical theater, dance, music and technology. His original work is created collaboratively with a diverse group of artists and has been presented across the U.S. Recent projects - as director: the.humanest & Archipelago (Incubator Arts Project). As performer: Andrew Schneider's FIELD (Roulette), Martha Clarke's Angel Reapers (The Joyce), a canary torsi's The People To Come (Invisible Dog) and Blue Man Group (Astor Place Theater). Peter has also co-created immersive, site-specific works as a resident artist with Trusty Sidekick Theater Co. (Park Ave Armory), The Institute for Psychogeographic Adventure (DUMBO & Brooklyn Museum) and as a founding member of Fixed Agency (Brooklyn Navy Yard). In NY, his original work has also been presented by The Brick, The Kraine, Galapagos Art Space and The Chocolate Factory Theater's THROW series. Peter holds a BA in Theater from UCLA and an MFA in Performance & Interactive Media Arts from Brooklyn College.
Amy Neuner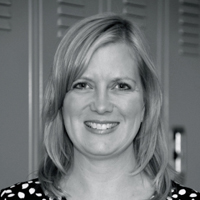 Amy Neuner is a music director and arts educator specializing in the development of emerging groups. Her ensembles have won coveted awards such as "Best Gospel Choir Youth Division" in the Pathmark Gospel Festival (Apollo Theater), and "Featured Songwriters/Featured Ensemble" at Grammy Boot Camp (PACE University). Ms. Neuner is the director of choral music at Valley Stream Central High School, where she is a founding member of the performing arts magnet program. In addition to directing, she has forged educational relationships with organizations such as the Broadway Inspirational Voices and worked on in-school educational directives with ABT, MTV, and LINY-TV. Ms. Neuner is also responsible for the music program at First Church Brooklyn, where she directs an eclectic choir of singers ranging from amateurs to in-demand Broadway performers. This choir's outreach includes two commercially released CDs and regular performances at the Derrick Bell enrichment series (NYU). Ms. Neuner was the originating music director for the critically acclaimed musical Infertility the Musical That's Hard to Conceive (Off-Broadway).
Drew Petersen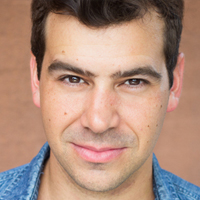 Drew Petersen is a Brooklyn based artist and teacher. As an artist, he is the Associate Artistic Director for Trusty Sidekick Theater Company, a theater company devoted to creating high quality, original work for young audiences and their families. Mr. Petersen is also an extended company member of Philadelphia based Curio Theater Company. He currently is an educator with Park Avenue Armory, The New Victory Theater and he is the drama teacher at the Blue School, a progressive elementary school in lower Manhattan founded by the Blue Man Group. In the past, he has worked artistically/educationally with The Public Theater, Roundabout Theatre, Cleveland Playhouse Square, and People's Light and Theatre Company. He holds a M.A. in Educational Theater for Colleges and Communities from N.Y.U.
Vickie Tanner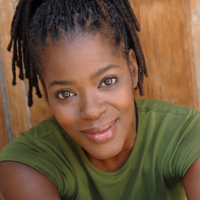 Vickie Tanner received a BFA in Theatre from California State University at Long Beach and studied the Meisner technique with Maggie Flanigan in New York City. Among her theatre credits are STOMP (Original American cast, Orpheum Theatre, National and European Tours); Tantalus, Denver Center Theatre and British tour with the Royal Shakespeare Company, Dir. Sir Peter Hall, Two Days, Long Wharf Theatre, Dir. Lisa Peterson and That Damn Dykstra at Access Theatre, Dir. Margarett Perry. She's performed her solo play, Running Into Me, in New York at La Mama, Cherry Lane Studio Theatre, Nuyorican Poets Cafe and in Los Angeles at Whitefire Theatre. Her film credits include Drop Back Ten, Acts of Worship, No Way Out and The Apology. Television: NYPD Blue, STOMP Out Loud, Wonderland, (Writer/Dir. Peter Berg), Law and Order SVU, One Life to Live, and Mercy. For information about her work, go to VickieTanner.com or playsolo.net